NIH Training Center
Learn...
Discover...
Grow...
3rd Quarter | FY 2021
The Quarterly Digital Newsletter from the NIHTC
---
Women Leaders Connect, Share, and Explore in NIH Training Center Leadership Course
If you are a GS-13 or equivalent leader at NIH and seek an opportunity to meet, connect, and learn with and from other leaders, the NIH Training Center's Women in Leadership: Strategies for Success series is an excellent opportunity for you.
Launched in 2016, the program is designed to help women NIH leaders develop their own vision, voice, leadership presence, and resilience. A DiSC assessment is included in the program, which offers insights on current leadership styles and behaviors as a foundation for self-awareness and future skills enhancement.
A unique component of the program is a half-day panel featuring women NIH Executives where panelists provide mentoring, guidance and support to participants.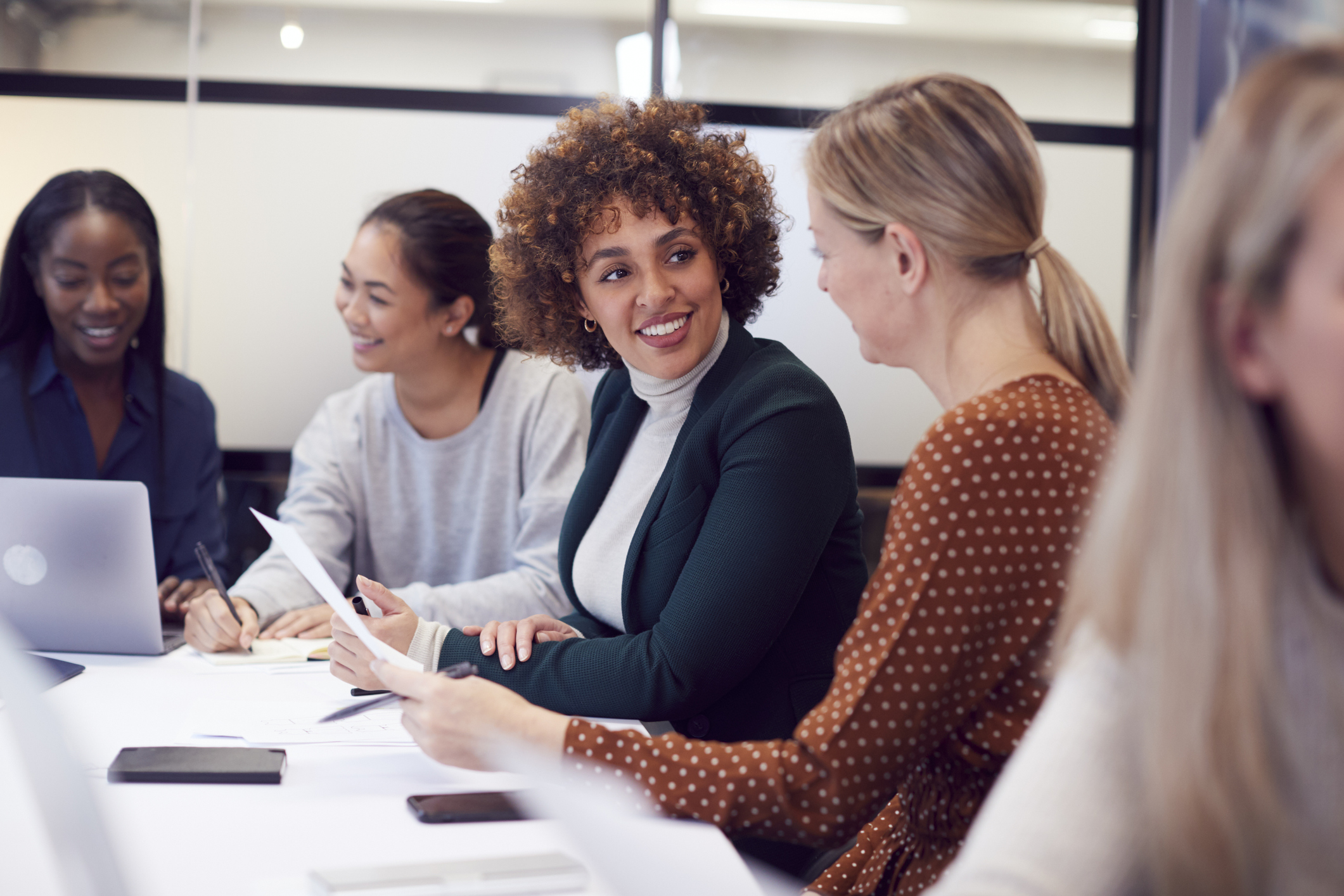 Our 2021 panel includes:
Moderator: 

Captain Antoinette Jones, MSOD, RN, Patient Representative, NIH Clinical Center
L. Michelle Bennett, Ph.D. Director, Center for Research Strategy, National Cancer Institute
Darla Hayes, Executive Officer and Associate Director for Management, NIH Office of the Director
Camille Hoover, Executive Officer and Associate Director for Management, National Institute of Diabetes and Digestive and Kidney Diseases
Maryland Pao, M.D., Clinical Director, National Institute of Mental Health
Karen Parker, Ph.D., M.S.W., Director of the Sexual & Gender Minority Research Office, NIH Office of the Director
Here's what NIH women leaders have shared with us about their experience in the course:  
---
"I loved the opportunity to engage with women genuinely and honestly from a diverse range of offices across the NIH."
"I enjoyed that it was a program by women and for women and the unique challenges we face."
"I appreciate the wealth of experiences the panelists brought to the meeting and their willingness to be candid made this one of the best events I've attended in a long time."
"The interactions made me take a deeper look at myself as a leader and a person."
---
Start 2021 off with an investment in your leadership skills and join the upcoming cohort which begins on June 17.  Register soon -  this course is limited to 25 participants. For tuition, additional details about the course and to register, visit our course catalog.
---
Developing You This Spring
There's no time like the present to invest in your professional development to enhance your career.
The NIH Training Center Can Help!
Professional Development Workshops
Individual Development Plan (IDP)
An Individual Development Plan (IDP) is an essential tool to map your professional and leadership development with overall career goals.  We offer 1:1 consultations with career development professionals to help you establish a plan based on your unique strengths and areas to improve.
For details and additional information, contact Keisha Berkley at Keisha.berkley@nih.gov.
Customized Coaching
Another valuable service available to NIH employees is 1:1 Internal Leadership Coaching (ILC). If you'd like to work with a certified NIH career coach to help you transform your weaknesses into strengths.
For details and additional information, contact Bob Michon at  bob.michon@nih.gov.
Upcoming Professional Development Classes
June 3: Short on time?  Need to know the basics of customer service but can't dedicate the entire day to training?  We've got you covered!  This newly designed 1.5-hour session will get you up to speed and increase your customer service skills in no time.
June 11:  This session will provide you with science-based and experientially-tested techniques to deescalate destructive confrontational situations and other misunderstandings at work.
July 20: As a leader at NIH, you work in a world that is moving faster than ever. In this workshop, you will be introduced to the dynamics of change and systems thinking, enabling you to orient yourself and others in the midst of change.
July 14:  Uncover hidden talents within your team and learn strategies that are not only fun and creative but also just might lead you to create the next breakthrough.
July 13:  Explore new techniques on how to enhance your communications and hold your people accountable. You'll also learn strategies for managing and communicating with your virtual teams as well.
Visit our  NIH Training Center Professional Development Course Catalog for a comprehensive list of courses available to you. 
---
Retirement Made Easy
Whether you are starting or closing in on the end of your career, the NIH Training Center offers retirement preparedness workshops at every stage. These workshops are intended to assist you in mapping to your eventual retirement by offering considerations and strategies for the right now.
Pre-Retirement Workshop (FERS)
This three-day workshop is designed to provide those on the Federal Employee Retirement System (FERS) and within 10 years of retirement an overview of their federal retirement benefits.
Pre-Retirement Workshop (FERS) - Three Consecutive Fridays
Same as our above FERS workshop but runs three consecutive Fridays rather than three consecutive weekdays.
This course is designed for the Federal Employee within 1 year of retirement, who has already completed the 3-Day Planning for Retirement Seminar, and who is fine-tuning decisions on leaving service.
Mid-Career Financial Planning for Retirement Workshop
This two-day workshop is designed for the FERS employee with 5-20 years of Federal Service, or who entered Federal service mid-career.
Understanding FERS Benefits for Early-Career Employees Workshop
This new one-day workshop is designed for the FERS employee with 2-5 years of Federal Service.  It provides employees the chance to learn how to strategize their 3-tiered retirement plan (FERS, TSP, Social Security) much earlier in their Federal career!
Check out the entire Retirement Preparedness portfolio to select a class to fit your needs.
---
Have An Intern Support Your Office
Do you need an extra hand in your office? The NIH Training Center hosts a SharePoint site to enable ICs to post rotational opportunities for the NIH Management Interns (MIs) and the Presidential Management Fellows (PMFs). These two-year programs are highly competitive, and attract the best and brightest candidates from NIH and across the country.
NIH MIs and PMFs work across the entire NIH on three to four-month rotations in a broad range of administrative areas, including budget and finance, grants management, contracts management, human resources, and management/program analysis. Rotational opportunities provide on-the-job training with exposure to senior leadership and help MIs/PMFs complete program requirements.
To post rotational opportunities, visit the NIH MI/PMF SharePoint site.
Ready for NBS Training?
If you recently attended any NIH Business System (NBS) systems-based classes such as Purchase Card, Property Management and Internal and External Requisitioner (IR/ER), you may have experienced issues with the student exercises called UPKs (User Productivity Kits). 
Before the NIH Training Center went virtual, the installations of UPKs were pre-loaded onto our classroom computers. Now in this virtual environment, it's critical you install these in advance. Given our stringent security measures, the UPK installation can be somewhat tricky! Contact the NIHTrainingCenter@nih.gov for assistance at least four days prior to your class that uses UPKs.
---
Editorial Team
Keisha Berkley, Editor
Barb LeClair, Managing Editor
Elena Juris, Editor in Chief
Adrian Lancaster II, Graphic & Web Designer
Contributors
Keisha Berkley
Roxie Daneshvar
Kimberly Doherty
Bob Michon
Michele Schwartzman