Leave Bank Membership Open Enrollment
Open Enrollment for the 2024 Leave Bank runs November 13 – December 11, 2023. If you are a current 2023 Leave Bank member, you will be automatically re-enrolled for the 2024 membership year unless you chose to opt-out using ITAS.
If you are an NIH Federal Civilian Employee who is eligible to earn leave, you are eligible for the NIH Leave Bank! To become a member of the Leave Bank, you must submit a membership request during an annual open enrollment period or enroll as a new employee. Membership requires a yearly contribution of one pay period's leave accrual- either 4, 6, or 8 hours, based on your current leave category.
The minimum contribution may be waived if you do not have adequate leave available or are a current recipient of the Voluntary Leave Transfer Program (VLTP) or Leave Bank. The waiver process will be automatically initiated.
As a new employee, you may enroll any time during your first 60 days of employment for the current leave year. Membership for new employees is effective upon enrollment. Otherwise, you may enroll during the annual open enrollment period, which is held annually from mid-November to mid-December. Enrolling during the annual open enrollment period activates your membership for the following calendar year.
Once enrolled, you're automatically re-enrolled each year, unless you decide to opt-out during open enrollment.
Ready to get started? Enrolling is easy; just complete a few simple steps in Integrated Time and Attendance System (ITAS).
Leave Bank Membership Request
Login to ITAS and select the "Leave Bank Membership" tab from the left–hand menu 

(see Figure 1 below)

Select the year for which you would like to become a member
Click the OK button (Reset button available to reset screen, no action taken)
Leave Bank Membership Agreement confirmation screen is displayed 

(see Figure 2 below)

Click the Agree button (Disagree will reset screen, no action taken)
Figure 1: Sample Leave Bank Membership screen
Membership in the Leave Bank requires a contribution equal to one pay period's annual leave accrual amount. A confirmation screen will appear. You must read the membership agreement and make a decision – you will have the option to select "Agree" or "Disagree." Selecting "Agree" will move the membership request forward to the NIH Leave Bank Office Case Manager.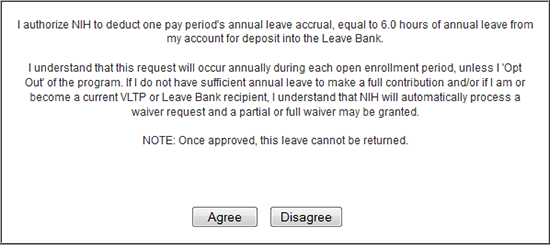 Figure 2: Sample Leave Bank Membership Agreement Confirmation screen
Opting Out of Leave Bank Membership (Current Leave Bank Members Only)
As a Leave Bank Member, you will be automatically re-enrolled for from year-to-year until you "Opt Out" during the annual fall open enrollment period. In the event of a re-enrollment, the annual membership contribution will be automatically deducted from your annual leave balance unless you qualify for a waiver.
To opt-out in ITAS:
Select "Leave Bank Membership" in the left-hand menu
Select "Opt Out"
Do not uncheck "I want to become a Leave Bank member in"
Do not check the button for the upcoming year
Click the OK button
Click the OK button on the Confirmation screen
The Leave Bank Membership screen is displayed
NOTE: Opting out stops automatic re-enrollment for the next Leave Bank membership period, not the current membership period.
If you are unsure if you have successfully opted-out, please contact the Leave Bank Office during Open Enrollment. Opt outs cannot be granted outside of open enrollment and once the Leave Bank membership contribution is deducted, it cannot be returned. An employee is responsible for knowing their current membership status.
Questions
Please visit our Leave Bank Membership Homepage for more information.
For questions, email LeaveBank@od.nih.gov or call (301) 443-8393.