Outline
Provide background on ReImagine HHS, the Moving Towards a 21st Century Workforce Strategic Shift, and the Maximize Talent Initiative
Review the overall Maximize Talent structure and approach to transforming HR. Emphasis will be placed on the value of representation from across the Department.
Discuss each of the workgroups and workstreams, highlighting key initiatives that are already under way and plans for implementation of future initiatives.
Let participants know how they can get involved.
Summary
In April 2017, the Department of Health and Human Services kicked off the ReImagine HHS initiative in response to OMB M-17-22, Comprehensive Plan for Reforming the Federal Government and Reducing the Federal Civilian Workforce. Under ReImagine HHS, there are 6 strategic shifts with 10 initiatives, each focused on improving our programs and reimagining how HHS serves the American people. A priority under this effort is improving human capital management across HHS. Through the "Maximize Talent" initiative, HR specialists and employees from other disciplines are exploring ways to unify HHS's HR systems, bring them into the 2st century, and make sure we are attracting, retaining, and investing in the very best people we can get. This presentation will: a) Provide background on ReImagine HHS, b) Outline each workgroup under the Maximize Talent strategic shift, c) Highlight key initiatives to improve HR services across the Department, and d) Let you know how you can get involved. The ReImagine HHS Maximize Talent initiative will transform the way we deliver human capital services at HHS, and we hope that you can attend the session!
Resources
Biography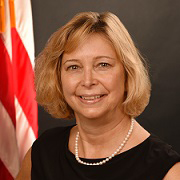 Christine M. Major has over 30 years of experience in HR at the Department of Health and Human Services (HHS). Currently she is the Deputy Assistant Secretary for Human Resources and Chief Human Capital Officer, HHS, where she oversees all Human Capital activities for the agency. She also served as the Principal Deputy Assistant Secretary for Administration (ASA) at HHS and as the Director of Human Resources for the National Institutes of Health (NIH).
Since coming to HHS ASA, Ms. Major coordinated the ASA Presidential Transition efforts and the Senior Executive Service Reform Initiative – implementing new recruitment strategies, development opportunities, and succession planning tools.